About Artist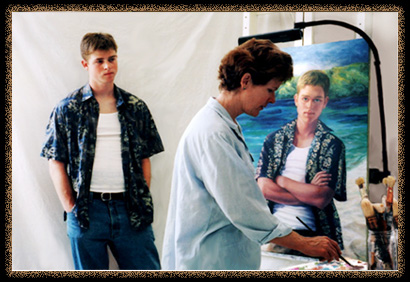 I have always loved Japanese art, perhaps because I was born in Japan. I lived there as a child because my parents were posted to Japan after the war. Many years later I find myself formatting my western style paintings as scrolls. As a teenager I went to th Corcoran School of Art in Washington, DC. It was a wonderful, vibrant school and the exposure to the art programs greatly influenced me. I decided during that time that the only meaningful way of living my life was to become an artist.

My family moved out west to Tucson, Arizona. I went to the University of Arizona and received a degree in fine arts, later working for the Tucson Museum of Art as an art instructor. I still love to Sonoran desert and visit it often.
I decided I wanted to live in San Francisco for its beauty, culture, and city life. I found a group of other artists in the city though a life drawing group. All of us were working at odd jobs, usually in some form of construction. We formed a community of artists and often put on group art shows. I met my husband Dave through this group and we are still together after 30 years. Living in the city was a wonderful and difficult growing experience and energized my art. My painting of the Costume Party was a summation of this episode in my life.
Dave and I decided to move north to the countryside of Santa Rosa once we had children. We built our house ourselves and kept the largest area as a studio. Working on my paintings can be isolating, but raising our daughter and son here connected me much more to my community. When I wasn't painting I started volunteering in the schools as an art teacher. I did this for many years, sometimes providing materials myself. We created self portraits and mural projects.
I also started painting landscapes when I moved to Sonoma County. I live in an area of landscapes with distant views of the mountains. I have spent years learning about light, color and creating the effect of far distance.
My art has been described by others as surreal realism. My paintings are realistic in that they are a study of the effect of light and structure in landscapes or the figure. They follow the logic of realistic art, but there is always a dreamlike quality to the places and events. There is a balance between an external realism and an internal or felt process. My art moves back and forth between reality and a dream when it is successful. It is sometimes difficult to turn off our intellect and attain a state of outer tranquility and inner stability. At moments of extraordinary clarity, when we are not distracted, one's perceptions become part of one's self. I am always striving for this "passage of felt life".
I have been holding a figure drawing group in my studio and as a result I have been drawing as much as I paint. Sometimes the model will assume a pose which remind me of an archetypal figure. I later will turn these poses into large, finished drawings. There is usually an implied narrative which results in the process. I have also been drawing and painting portraits by commission. Drawing on a regular basis is now essential to my art. I am currently a member of the Phantom Gallery located in downtown Santa Rosa.
Education
1997-98 Santa Rosa Junior College, Figurative Drawing & Adobe Photoshop
1984-85 U.C. Extension (Berkeley), San Francisco, Photography
1974 University of New Mexico, Albuquerque, NM, Painting
1973 University of Arizona, Tucson, Arizona, B.F.A.
1971-2 Los Angeles Art Center, L.A., California
1967 Corcoran School of Art, Corcoran Museum, Washington, D.C.


Solo Shows
2014 Santa Cruz Art League Local Essence Best of Show
2007 Mill Valley Arts Commission Finalist, Community Center, Mill Valley, CA
2006 CPS Sonoma West, Graton, California
2003 Art in the Napa Library, Napa, California
1995 Whistlestop Gallery, Santa Rosa, California
1993 Mural "Scenes from the Wine Country", Santa Rosa, California
1993 John Frances Studio, San Francisco, California
1976 Albuquerque Art Center, Albuquerque, New Mexico


Group Exhibits
2015 "85th Annual Statewide Landscape Exhibit", Santa Cruz Art League, Santa Cruz, CA
2015 "The Blue Show", online juried show, Linus Art Galleries
2013 "Beasts on Broadway", Santa Cruz Art League, Santa Cruz, CA
2009 "Painting Large", Dominican College, San Rafael, California
2009 "The American Landscape", Santa Cruz Art League, Santa Cruz, California
2009 "Spring Obsession- Open Division", Merit Award, Ironstone Vineyards, Murphys, California
2009 "Au Natural: The Nude in the 21st Century", Clatsop Community College, Astoria, Oregon
2008 " Works on Paper", Best of Show, Sebastopol Center for the Arts, Sebastopol, California
2006 "Sacred Woman Exhibition", Art Harvest, Sacramento, California
2004 "Heart to Heart", Indian Valley Artists, Marin, California
2004 "Celebrating the Goddess", Joan Hanley Gallery, La Veta, Colorado
2002 "Gardens and Botanicals" , Plaza Arts, Healdsburg, California
2002 "The American Landscape", honorable mention, Santa Cruz Art League, Santa Cruz, California
1998 "Landscape", Sebastopol Center for the Arts, Sebastopol, California
1983 Bay Area Annual, Burlingame, California
1983 San Francisco Artist Invitational, Golden Gate Park, San Francisco, California
1982 Marin County Annual, Community Center, San Rafael, California
1982 Bay Area Annual, Burlingame, California
1982 Santa Rosa Artists Competition, 1st place, Santa Rosa, California
1978 Eight Woman Artists, Marina View Gallery, San Francisco, California
1977 Woman Painters, Fredrick Street Gallery, San Francisco, California
1976 Staff Show, Tucson Museum of Art, Tucson, Arizona
1975 Staff Show, Albuquerque Art Center, New Mexico

Teaching
1975 Albuquerque Art Center, Albuquerque, New Mexico
1976-77 Tucson Museum of Art, Tucson, Arizona
1985-2002 Santa Rosa Public Schools, Arts program volunteer
2002-03 Sebastopol Center for the Arts, Sebastopol
2004 to present Landscape painting in my studio, Santa Rosa